22 Q's: Meet Maxine McCrann
10.11.23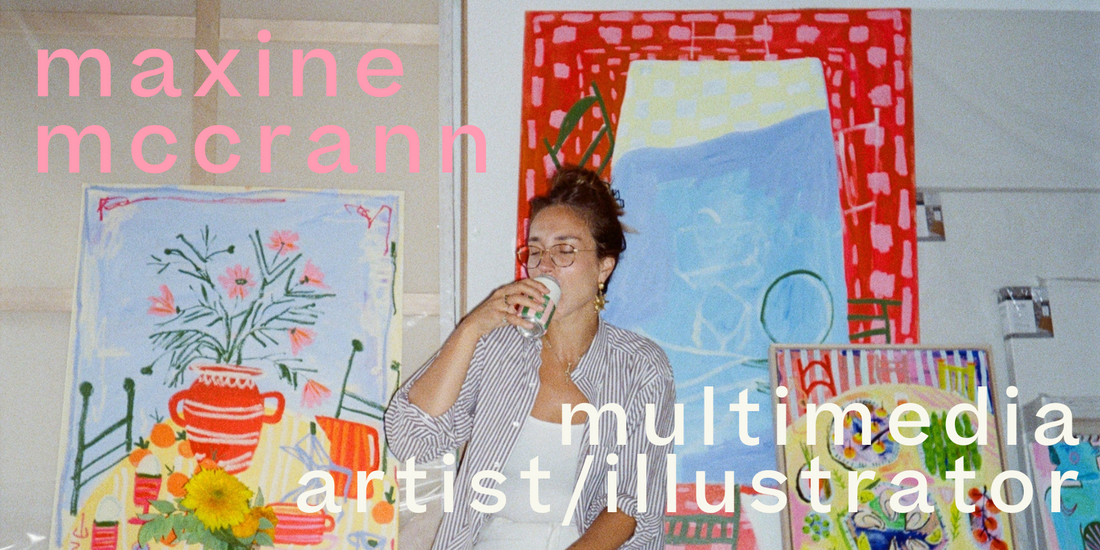 Artist, illustrator, dog lover, florist, plant adorer, and etiquette exemplar Maxine McCrann is a born-and-raised New Yorker who now calls Toronto home. Sharing our passion for community, bold colours, and quirky humour, Maxine creates art that celebrates the joyful moments of connection in the everyday. 
We met up with Maxine in her studio to ask her a few questions:
1. Favourite work of art?
That's a tough question out of the gate! My favourite work of art probably changes every day, but the first piece that comes to mind as one I can't stop thinking about at the moment is Maiden Flight by Denise Thomasos. I kept returning to the AGO to see it when it was up and it felt so fresh and so moving each time. 
2. Favourite escape?
My family's cottage in rural Pennsylvania or Marseille.
3. Indulgence?
Honey's Rocky Road Ice Cream 
4. Wake-up time?
Lately, like nine! 
5. Last meal?
Fish tacos.
6. First thing on your to-do list?
Packaging orders so I can mail them out on my morning dog walk. 
7. Night in/out?
In! 
8. Overused word/phrase?
Whenever plans change last minute due to unforeseen circumstances, I say "When you make a plan, God laughs!" which gives me comfort for some reason but is probably very annoying to my friends.
9. Dream dinner guest?
Jane Goodall.
10. Piece of advice?
Never show up empty-handed, and send a thank-you note.
11. Writing implement?
Twisbi Eco Pen.
12. What is the theme song of your life?
Jazz FM 91 is playing in the background in my house all day long, so that definitely feels like the theme radio station of my life.
13. Game?
Ping-pong.
14. Vintage or new?
Vintage!
15. Homemade meal?
I'm pretty simple in the kitchen most of the time; I most often make an omelette or a hearty salad if I want something quick and filling.
16. Dinner party shortcut?
Ordering Badiali pizzas a week in advance to disguise my lack of cooking ability.
17. Follow a recipe or play it by ear?
Play it by ear! 
18. First thing you would grab in a fire?
My dog, Morty! Then if I were feeling really strong, this huge gilded mirror I have in my apartment that I grew up with in my childhood home.
19. Weekday go-to dinner?
Eating out: Pho, Eating in: some kind of curry. 
20. Always in your fridge?
Coconut greek yogurt and grapes.
21. A go-to excuse to get out of a social event?
I really don't feel like talking to anyone today but thanks for the invite!
22. Last impulse purchase?
Beautiful sun-shaped Simuero earrings I got in France.
Click here to read last month's 22 questions with our own Andrea Grand!