How to Throw an Earth-Friendly Dinner Party
Invitations
We all love the feeling of a paper invitation, but going digital reduces waste (and is more likely to be opened by the recipient in this day and age!). 
Sites like

 

Greenvelope,

 

Blackbird,

 

and

 

Poply

 

let you upload your own custom design or tailor one of the pre-made templates and personalized digital envelopes.

If you do go the paper route, make sure invitations are made from 100% post-consumer recycled paper, meaning that no trees were cut down in the process. 
Food and Drink
Shop Locally, Cook Seasonally.
Head to your local farmer's market to find seasonal produce. Not only does this

 

reduce your food miles

 

and support local producers, it is also a fun way to find interesting fruits and veggies that you can also include in your tablescape.
Don't forget to carry small change,

 

bring your own tote

 

and avoid buying anything that is packaged in excess. 
Click here for the roundup of our favourite grocery bags. 
Kitchen:
Brands we love:
1. Caraway cookware has no harmful chemicals, is ethically manufactured, eco-friendly, and packaged in recycled cardboard with no plastic.
2. If you haven't heard of the Our Place Always Pan yet, prepare to have your culinary mind blown. The non-toxic, nonstick, and versatile pan is designed to replace eight cookware pieces, including a skillet, steamer, and saucepan.
3. Material
Offering a full range of kitchen items from knife sets, cutting boards, linen, and cookware, you can plan and prepare that holiday get-together from start to finish. 
4. Kana 
A few more reasons we're enamored: Everything's made with 40% recycled cast iron that would have otherwise ended up in landfills. The skillet can fry eggs, noodles, or fritters one minute, then bake up pizza, cinnamon rolls, or pie the next. 
The Table
Having a dining setup that functions and a mindset that considers your impact on the planet are both beautiful in and of themselves.
How to outfit your table in sustainable textiles, decorate around your favourite item on the table and don't be afraid to mix and match. 
Next, when it comes to eco-entertaining, choosing the right dinnerware is critical. There are plenty of sustainable options available that can help reduce waste and promote sustainability while still looking stylish and elegant on the table. 
Ditch the Disposables:
Trade in paper for cloth napkins, like naturally sustainable linens.
Head over to local vintage shops and go for a mismatched table aesthetic.
Rent! The majority of décor — including balloons, lighting and cake stands -  can be rented, ensuring zero waste and a lower price point.
1. Minna Apron. | 2. Atelier Saucier. | 3. Minna.    
Brands We Love:
Dinnerware:
Eco-friendly dinnerware? Count us in. Every dish you see is crafted from bamboo fiber and non-GMO cornstarch (read: super sustainable), with a touch of BPA-free melamine for an extra kick of durability. Oh, and you can put it in the dishwasher.
Ever since they met at a farmer's market and decided to launch their own homeware business, East Fork's three cofounders have been showered with praise for their down-to-earth designs. The company's humble beginning is reflected in their wares: the clay is locally sourced, the pottery is finished by hand, and the colors are plucked from a pastoral, natural palette.
Read: NYTimes Article.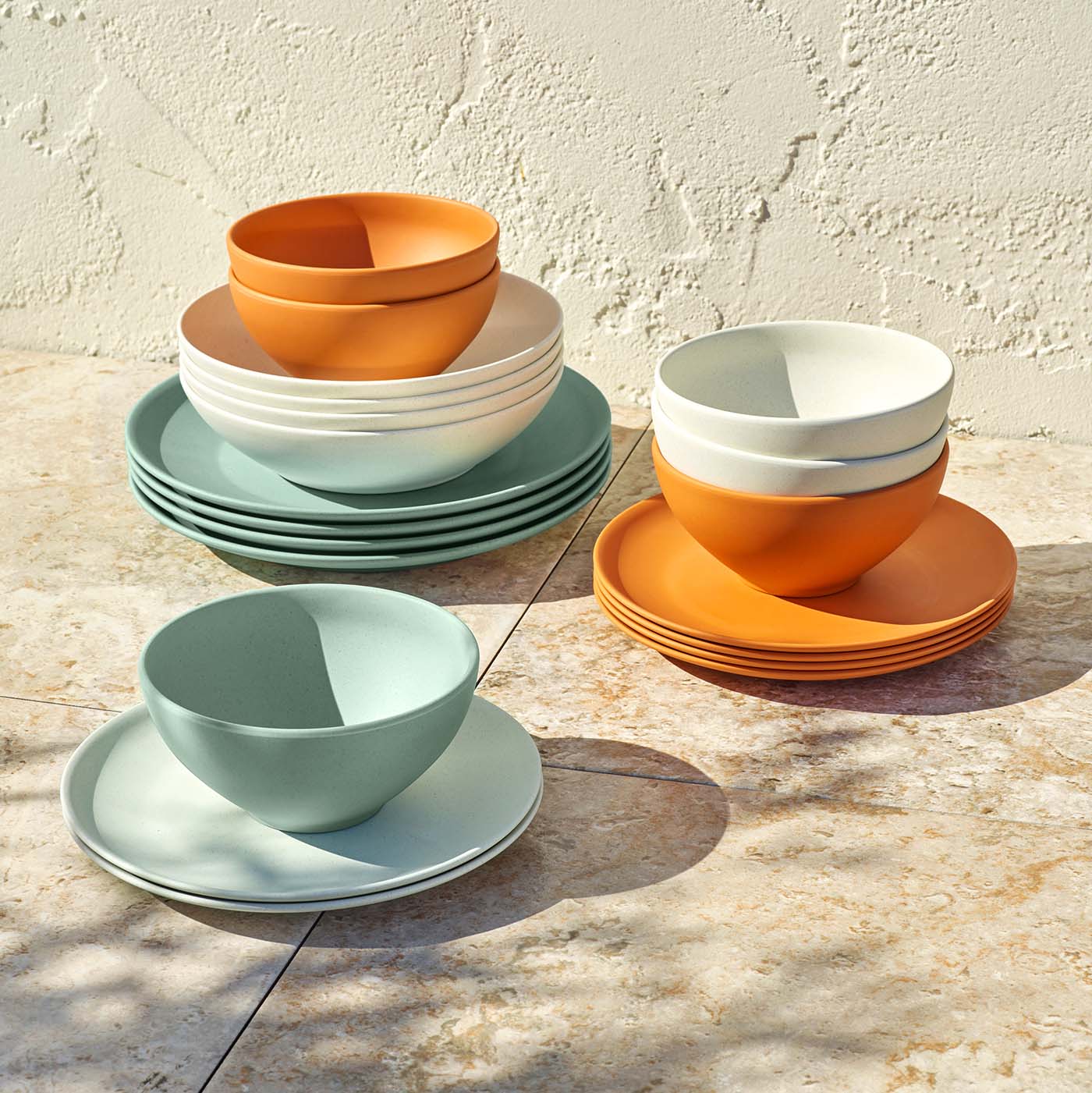 Year & Day's four core values make this home goods brand stand out from the crowd. By bringing together a thoughtful assortment of table settings, quality materials, direct shipping and transportation, and responsible manufacturing, you'll experience fine craftsmanship with each use. 
Textiles:
Brands we love: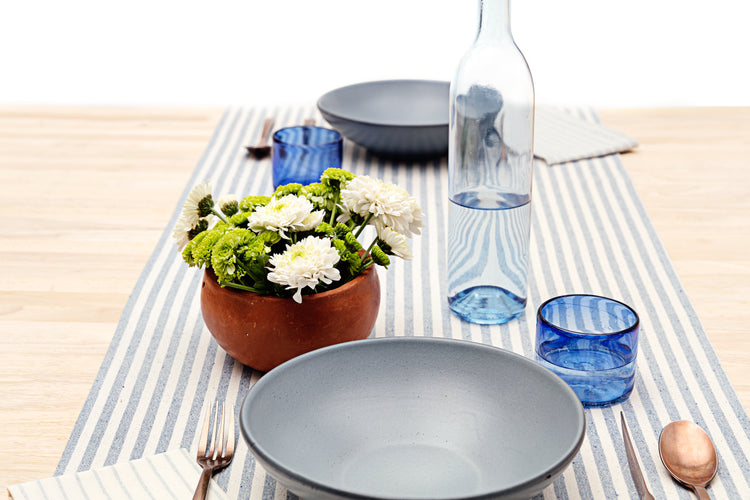 1. MEEMA creates a range of kitchen and dining accessories from recycled cotton and sustainable materials.
Atelier Saucier specializes in stylish napkins and place mats made from surplus material from fashion houses.
These towels are 100% cotton and feature a hanging loop on the reverse side. Designed in Canada and made in India.
Tarta Gelatina creates funky home goods that are consciously made.
Decorations
Glitter, balloons and plastic cutlery are the décor equivalent of those annoying guests who never leave. Using sustainable decorations adds a beautiful touch to your table, reduces waste, and promotes environmentally friendly practices. 
We love to use

 

potted plants

 

for the table filled with mixed herbs.
Take a

 

walk outside

 

and, instead of buying flowers, up your sustainable party game with fresh pine needles, herbs, branches, and colorful leaves - just to name a few options. You can get beautiful squash, gourds, and root vegetables and use them on the table. Not only are these items biodegradable, but they also add a fresh and natural feel to your table.
Hole-punch fallen leaves for

 

confetti, get crafty by making a

 

dried citrus garland, or

 

jazz up

 

a white tablecloth with a wrapping-paper runner that you can upcycle for holiday gifting. 
Use recycled materials such as old newspapers, magazines, or even glass jars to create unique decorations such as paper flowers or candle holders.
Brands we love:
Foli

 

simplifies the plant buying process by delivering healthy, mature plants across Canada. 
Jomo

 

offers easy care, pet-friendly, and air-purifying plants and also offers workshops on concrete planter making, candle making, needle felting, and macrame making.
Flowers
Working with local florists to use seasonal flowers and foliage will significantly reduce the carbon footprint.

Embrace the outdoors to upgrade your zero-waste party decor! Instead of buying flowers, incorporate pine needles, herbs, branches, leaves, pine cones - really anything you can find. 
Eco-Friendly Florists in Toronto
Sarah Nixon's urban flower farm lies in the heart of the Parkdale and Roncesvalles areas. Her micro-farm model is made up of various residential front and backyards in the area and all flowers are organically grown by her and her team.
All of their flowers and plants are locally sourced from greenhouses and farms around Ontario. WilBe Bloomin' uses paper packaging instead of cellophane, and they store water for stems using reusable materials rather than plastic. 

 
1. Barbet Hidden Taste 001. | 2. Misette.
Cleaning Up
Wash Wisely:
If its just a few, hand washing is great, but running the dishwasher uses less water. 
Brands we love:
Tips:
Set out a recycling bin or box where guests can dispose of empty cans and wine bottles as they finish. After the celebration, sort them according to your area's recycling guidelines.
Use

 

Aluminum Foil

Clean foil can be crumpled and tossed into the recycling bin, making it a better option than plastic cling wrap. But don't risk contaminating a load of recyclables: If your foil is covered in baked cheese and sauce, toss it in the trash.
No host wants to run out of food, but no host wants to get stuck with 50 leftover pigs in a blanket. Instead of tossing leftovers, have takeout containers ready to go.
Brands we love:
Don't let fod scraps go to waste!
Don't let those veg tops and fruit peels go to waste! Try whipping up a fragrant pesto with those leftover carrot tops, beet greens, and celery leaves, or using citrus rinds for marmalade and to garnish your cocktails—the possibilities are (deliciously) endless. 
Other ways to use leftovers:
Make stock with leftover bones and vegetables

Dry apple and orange peels for drink garnishes or decor

Turn stale bread into croutons

Use leftover herbs to infuse olive oil
Ecotique has a great selection of food storage options. 
Compost and Food Waste:
Composting is another great way to reduce your food waste and environmental impact in the kitchen. The benefits are far-reaching, from enriching the soil and promoting biodiversity to conserving resources and advancing circular economies.