Essential Glassware Part 2: Specialty Drinkware
Amateur mixologist or cocktail connoisseur, we have you covered with a few of our specialty drinkware favourites.
Coupe
The Champagne coupe was designed in England in the 17th century specifically to enhance the qualities of Champagne.This glass is typically 4.5 - 5 oz. Like its cocktail glass cousin, the stem protects the contents of the bowl from warm hands, and the wide mouth promotes aromatics.
The internet's favourite glass of the moment, the square coupe, "is a statement without a clear purpose. It's a striking visual anomaly in a world of rounded, bowl-like coupes. Which is exactly why it has been popping up on social media, where utility is secondary, and style is everything."
Squared-off coupes are uniquely urbane in design, but domestic in use and the shape seems particularly well-suited to nonalcoholic drinks, which can lack the sense of ritual and anticipation that comes from, say, stirring a Martini.
"They don't really make sense out in the world, but their impracticality is less of an issue and more of an asset when enjoying a drink in your living room."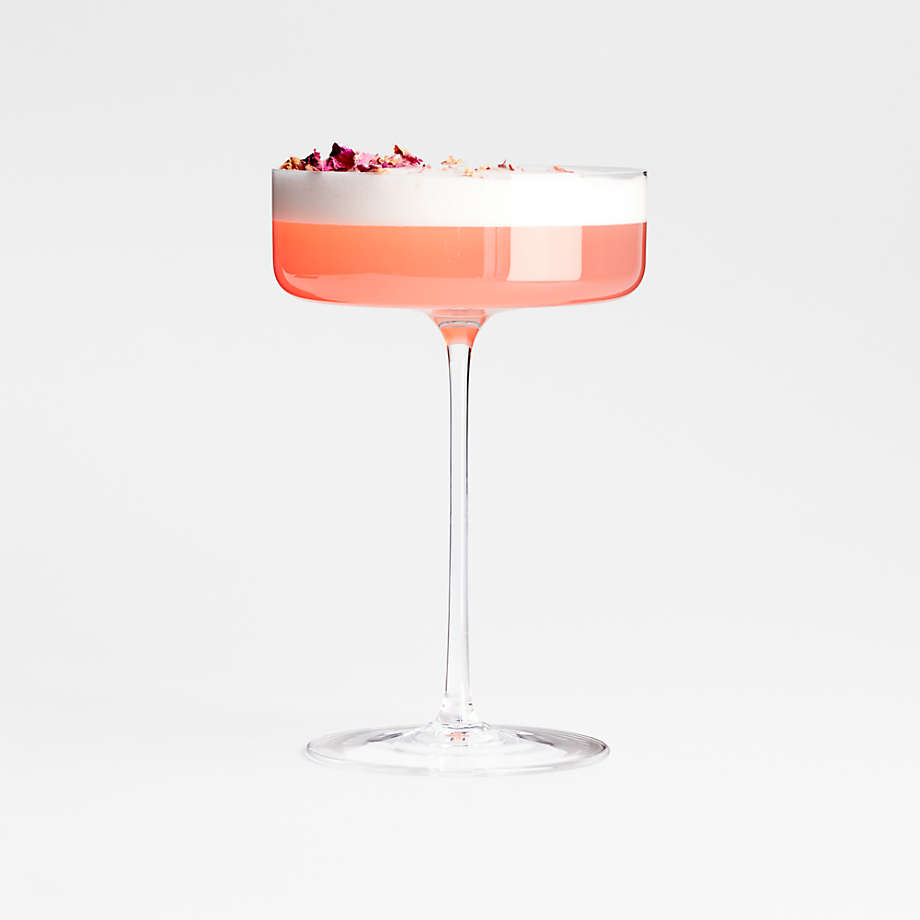 A cylindrical bowl with a flat base has a dramatic, contemporary look that lends a modern edge to the classic coupe. Perched upon a slender stem, the shallow glass serves cocktails or your favorite bubbly with a splash of drama.
Fazeek's 'Wave' coupes are perfect for serving crémant, cocktails or ice cream. Hand-blown from clear borosilicate glass, they have long stems and rippled edges that add the label's characteristic playfulness.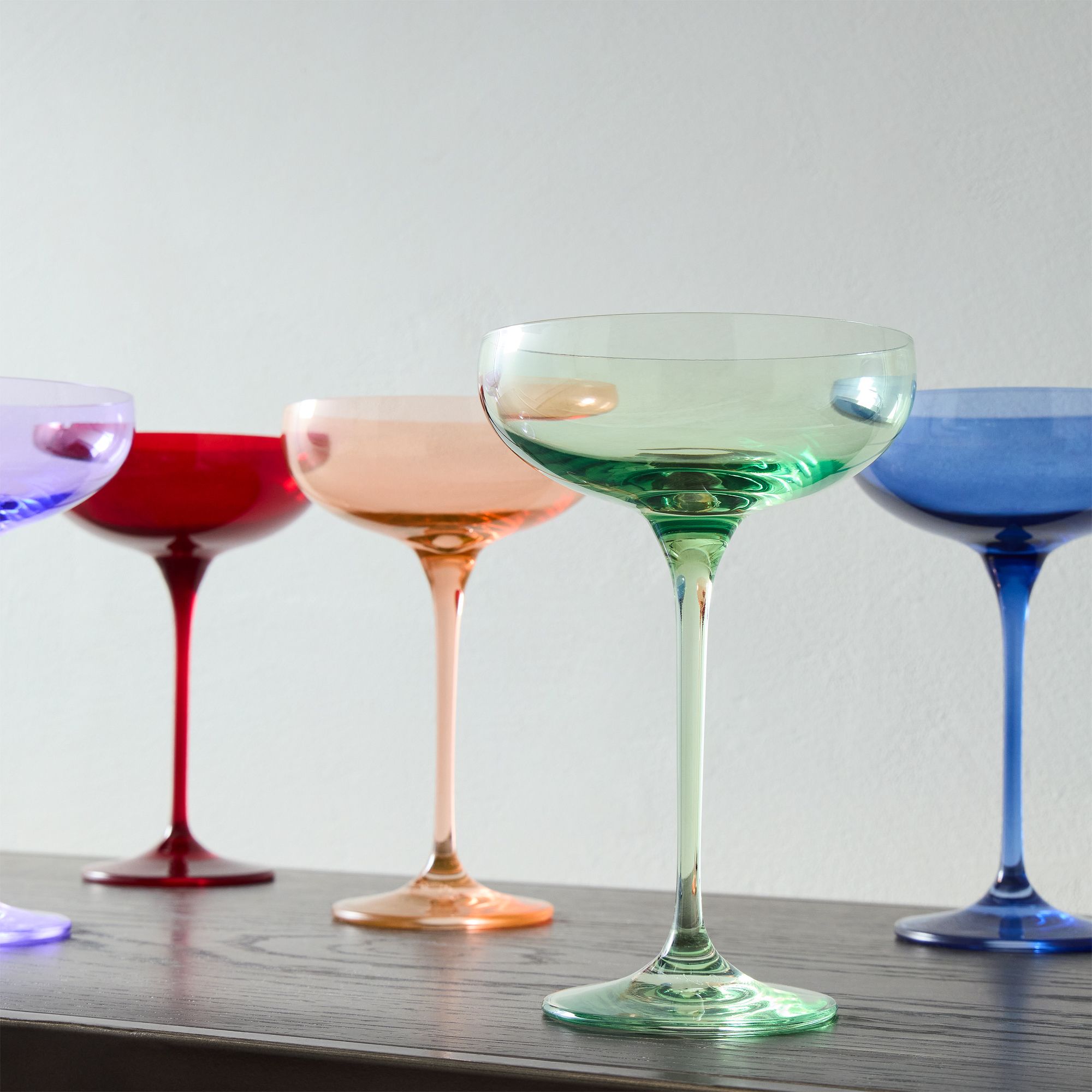 Inspired by an antique glass collection, each glass is hand blown by Polish artisans and brings iridescent color to your table setting.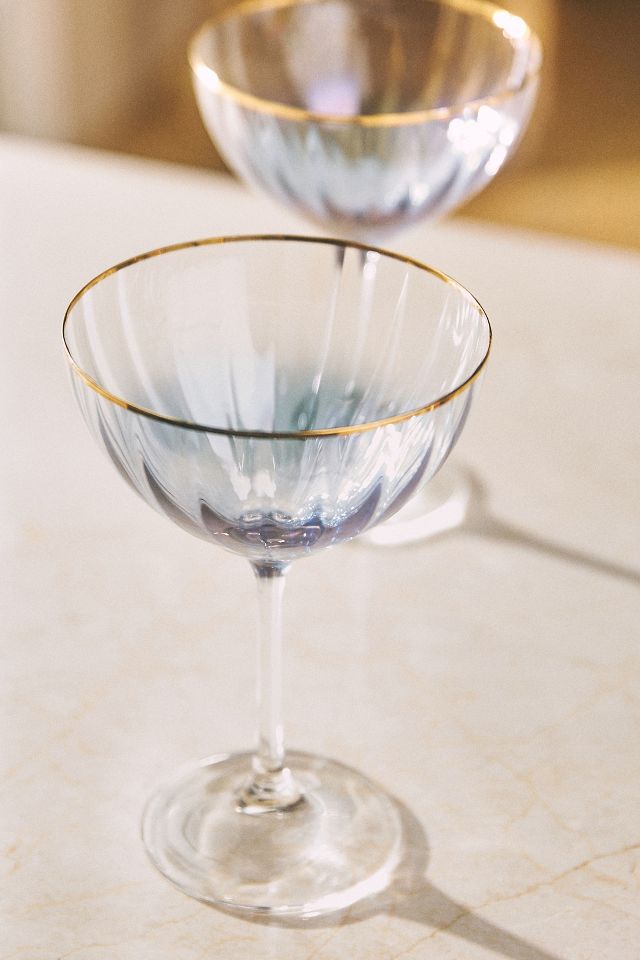 The preferred champagne vessel of 1920s flappers and Old Hollywood starlets, the coupe glass is an alternative to the flute, as well as a vessel for shaken or stirred cocktails. With a wide brim saucer design, the glass lends undeniable sophistication to each sip enjoyed.
Set of two hand-blown borosilicate glass coupes in pink. Spherical accents in orange throughout. 
Margarita
A champion of taco night, dive bars, and even the craft cocktail bar, the Margarita is a classic cocktail in its own category. No matter where you go, the Margarita is a cocktail you can count on.
Whether you prefer your margarita shaken and served on the rocks or blended up and frozen, there's one important factor that can make or break the entire drinking experience: the glassware you use. 
This NUDE Vintage set of glasses is ideal for serving classic short cocktails — from Cosmopolitans to Margaritas to Barbet. Each glass has been crafted from the finest lead-free crystal with a clean delicate bowl, a deep V plunge and a long, slender stem.
Tulip Glass
The best options for capturing the aroma are the flute- or tulip-shaped glasses, because "the aromatics travel right out of the narrow opening to resonate around your mouth and nose as you take a sip," says Lauren Paylor O'Brien, who won the title of Netflix Ultimate Drink Master 2022.  
Set of two hand-formed and mouth-blown borosilicate glasses. Hollow stem. Suitable for hot and cold liquids. Oven, microwave, and dishwasher safe.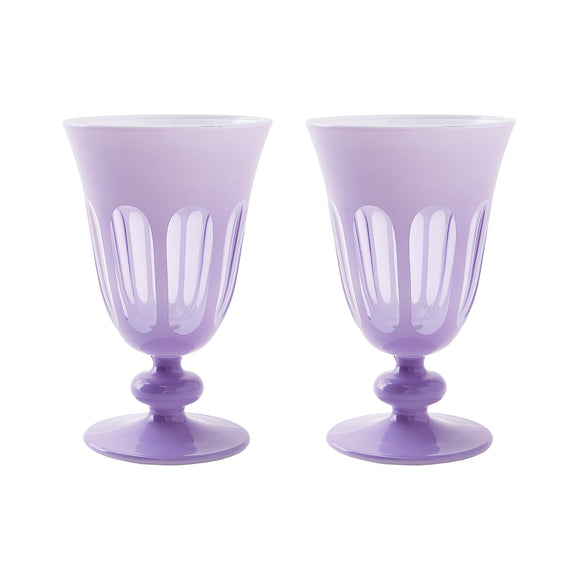 Inspired by the arches from one of the most famous bridges in Venice, Italy, the Rialto 10-Ounce Tulip Glass (Set of 2) from Sir Madam, is a colorful and refined glassware set ready to serve your guests in elevated style. Handcrafted from glass, this tulip glass is finished by hand in Turkey requiring a multi-step process that is executed by artisans. 
Ghost Zero Tulip champagne glass is perfect for raising a toast at your next celebration. The crystalline silhouette is set apart by the gentle curvature of the base, which amplifies its sculptural quality.
Nick & Nora
Created at the direction of cocktail legend Dale Degroff, the Nick & Nora glass debuted in 1987 in New York City's Rainbow Room, where Degroff launched the cocktail program that in turn launched the classic cocktail renaissance that continues to this day.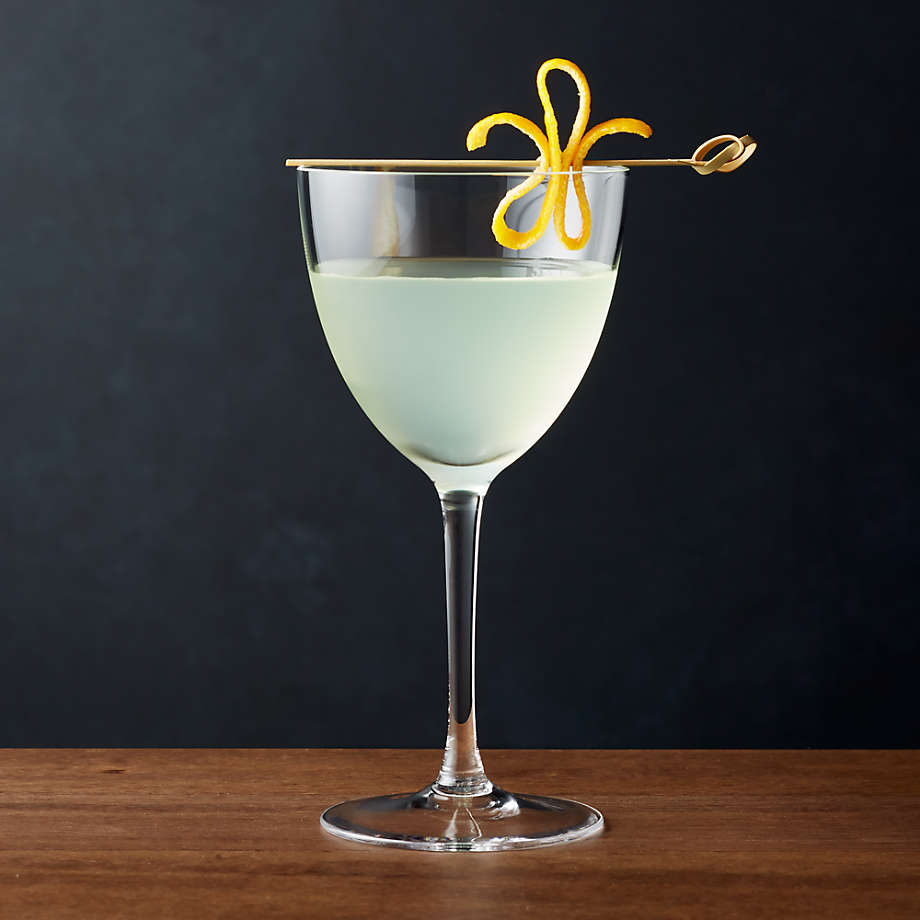 Somewhere between a martini glass and a coupe, the Agent Nick and Nora glass, named after the cinematic husband-and-wife detective team, brings back the suave sophistication of 1930s high life. Handcrafted in Poland, the sleek glass also has a practical side, being nearly slosh-proof and space-saving when stored. 
Champagne Flute
Clean, fancy, and with timeless classic appeal, Champagne Flutes always come in handy for celebrating life's moments, both big and small. The long, thin stem maintains the drink's carbonation and is the perfect vessel for a glass of bubbly Barbet.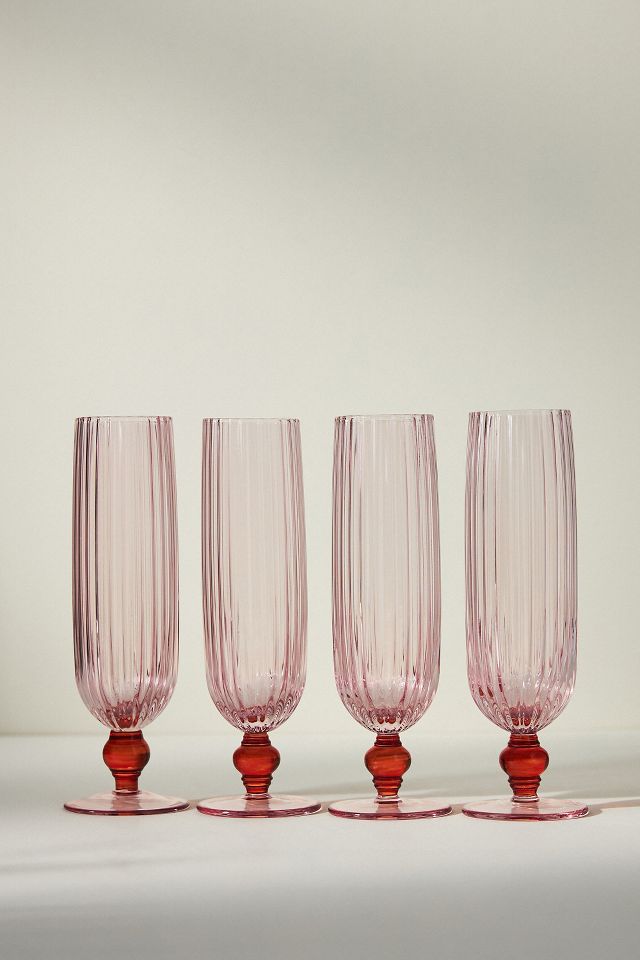 The Chamberlain collection features an optic bowl with a light scalloped texture and an elegant hand-pulled stem, with a burst of bright color for a modern pop on a shape inspired by the classics.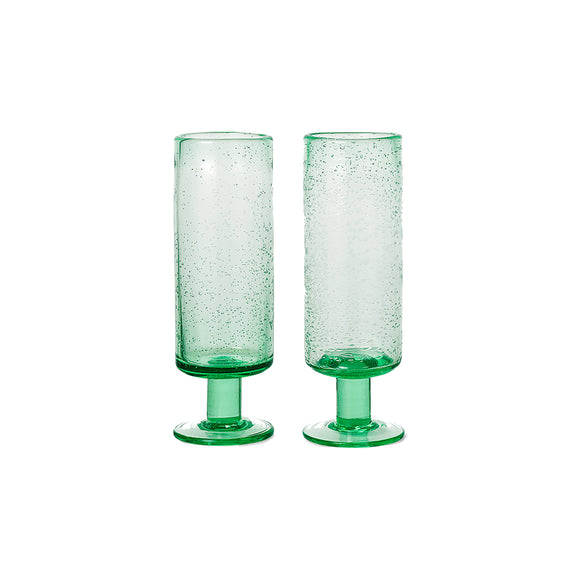 Effortlessly resting in your hand, the versatile Oli glassware collection is designed for everyday living. The glassware has distinctive, tiny bubbles created by deliberate pockets of air left between the layers of mouth-blown glass that add to their tactility. 
Anything & Everything Drinkware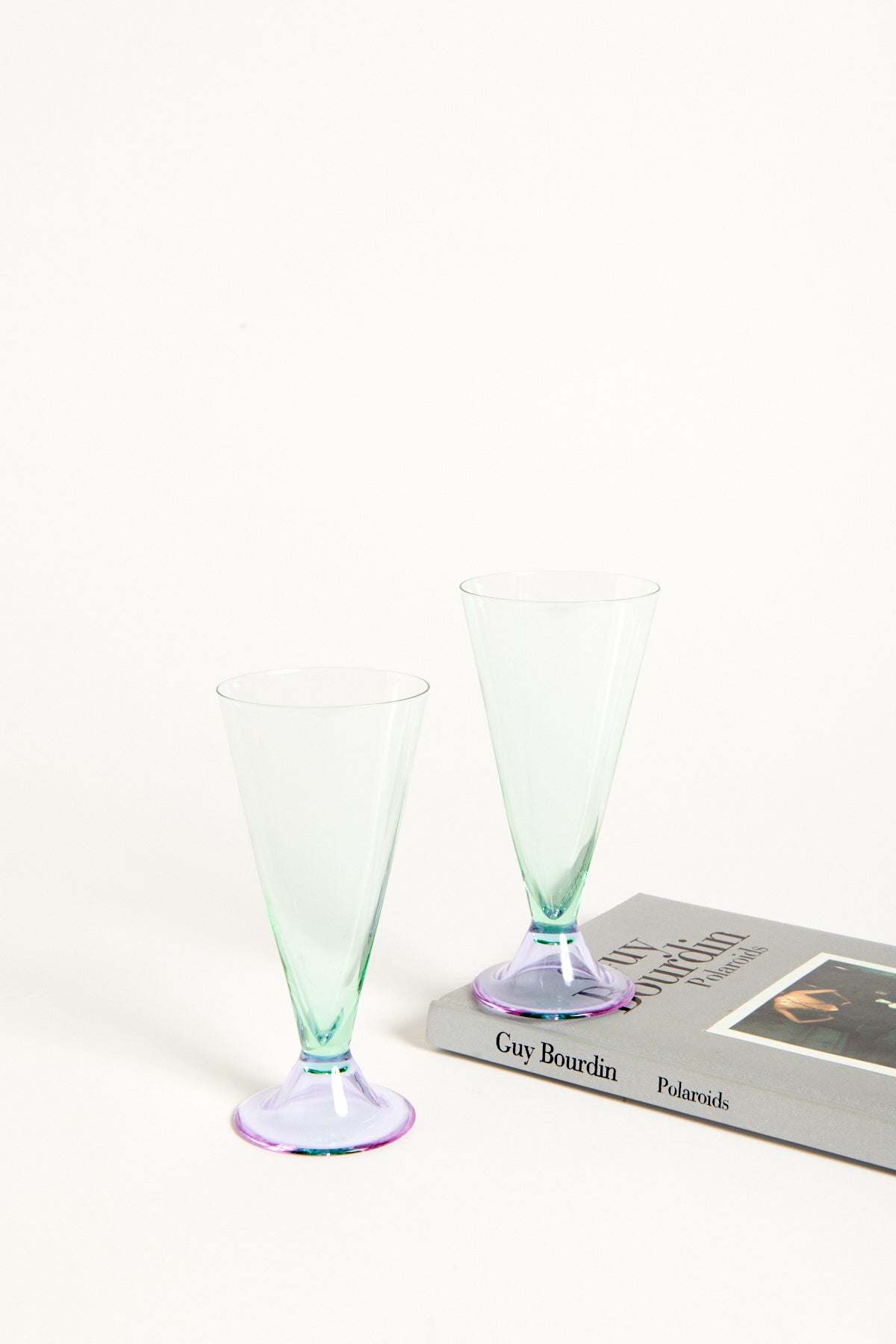 Vintage Rare Carlo Moretti set of two glasses in delicate sheer sea green and violet.
Period: 1990s-2000s.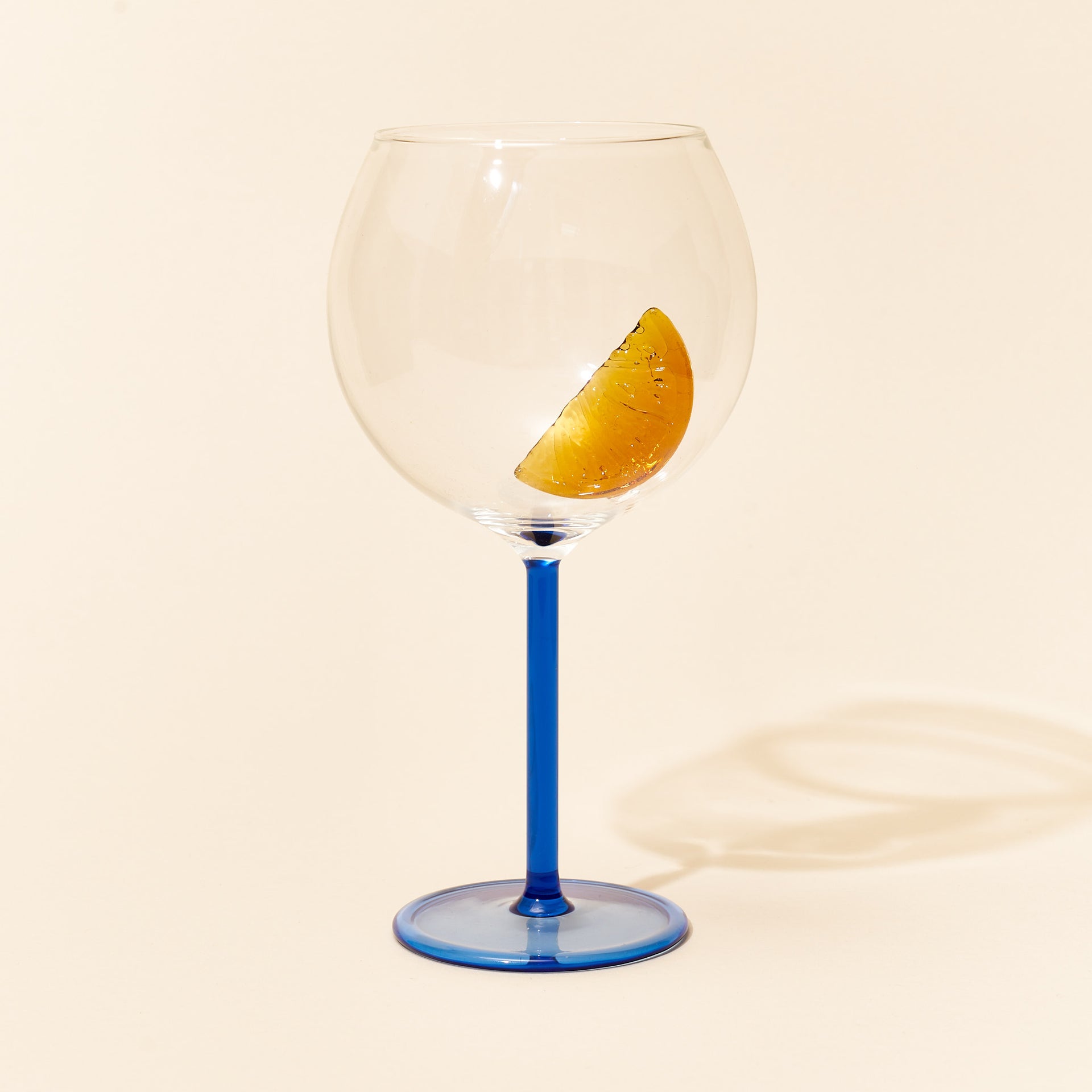 Spritz Season is upon us, and your official Spritz Glass — in a size perfect for generous pours — is waiting for you.  
This spectacular wine glass is a sure stand out item to elevate your collection. The blown glass boasts an attractive light green tone and intricate retro metallic stem, as well as a tactile texture that feels great in the hand.


Originally designed in 2006 and now reintroduced, these glasses are bound to steal the spotlight at your next soirée. Created by Bodum, each glass showcases a playful blend of colorful bases and elegant glass vessels, perfectly marrying style and sustainability.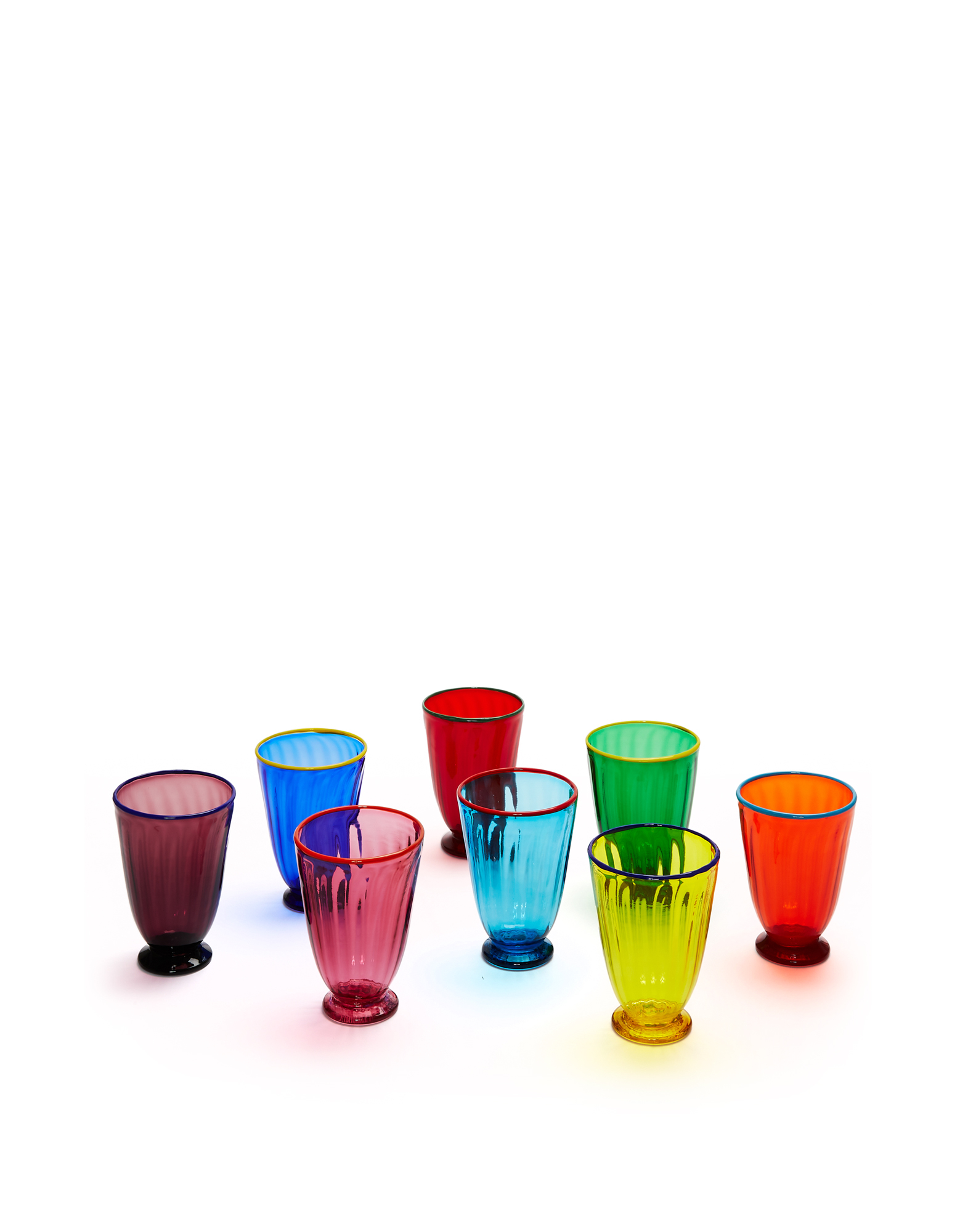 Be the hostess with the definitive mostess with this set of eight rainbow hued glasses guaranteed to blow the happypants off even the most popular of dinner party guests.  
With their soothing colors and textured surfaces, these six Todo Modo tumblers are pleasing to the eye and to the touch. Made in Italy from mouth-blown soda-lime glass, these tumblers are suited for everyday use. Use them to serve water, juice, soda or even a mixed cocktail. 
The organic bubble qualities of this mouth blown glassware and it's tall form and dotted detail make it easy to hold. 
LSA International's Pearl Cocktail Glasses are luminous and lovely. Each glass in this set of two is hand-blown with graceful hand-drawn stems which are then hand painted with pearlescent lustre to create a sheer, iridescent finish. The conical bowls have a subtly fluted texture at the base of the bowl which fades towards the rim.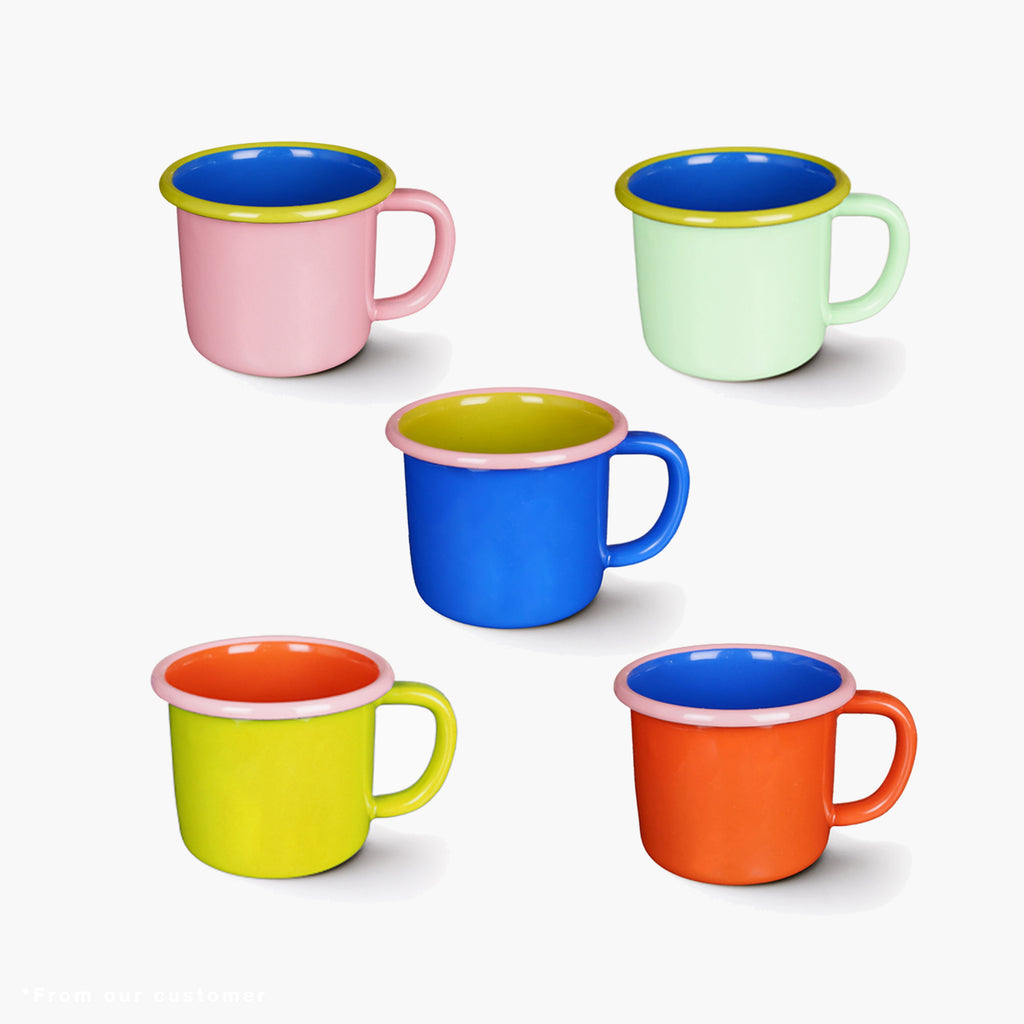 fired and crafted by hand in Istanbul, the large Mug with five different colours come from the Colorama Collection at BORNN. This collection is all about pairing unconventional colorways. Oven, freezer and dishwasher safe, Simple and minimalistic forms together with bold and vibrant colours invite you to create fun and eye-catching everyday table settings.