Essential Glassware Part 1: Cocktail Glasses
09.21.23
Every glass is designed with a purpose in mind, and matching your cocktail to its ideal glass is a vital step in creating any good drink. Not only does the feel and style of the glass set the ambience for the drink but certain shapes enhance the tasting experience. 
Suffice to say, a cocktail glass can truly make or break the drink you put into it, so making sure that your home bar is stocked with all of the essential types of cocktail glasses is a must for those who take their home cocktail making seriously.
Lowball
Also known as an old-fashioned glass, lowball glasses are a shorter version of the highball glass. With a wide and sturdy base, lowball glasses are ideal for muddling non-liquid ingredients and most commonly found in two sizes: single (6-10 oz.) and double (12-16 oz.).
These four drinking tumblers are each hand crafted from coloured borosilicate glass. A timeless design for everyday and special occasions alike.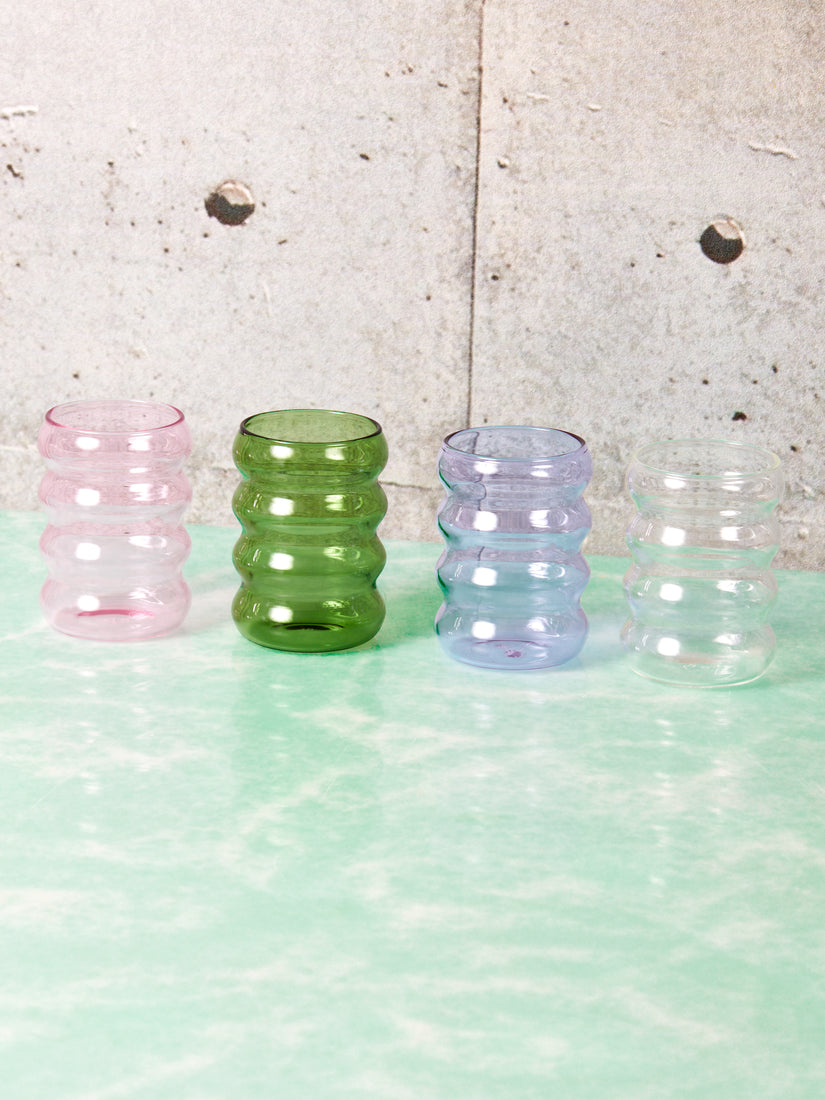 New borosilicate glass cups by Sophie Lou Jacobsen. Playful coloured glass cups perfect for a glass of wine or juice. 
Borosilicate glass tumbler featuring a floating animal designed by Alessandra Baldereschi. Playful, fun, and elegant glasses sure to bring a smile to anybody.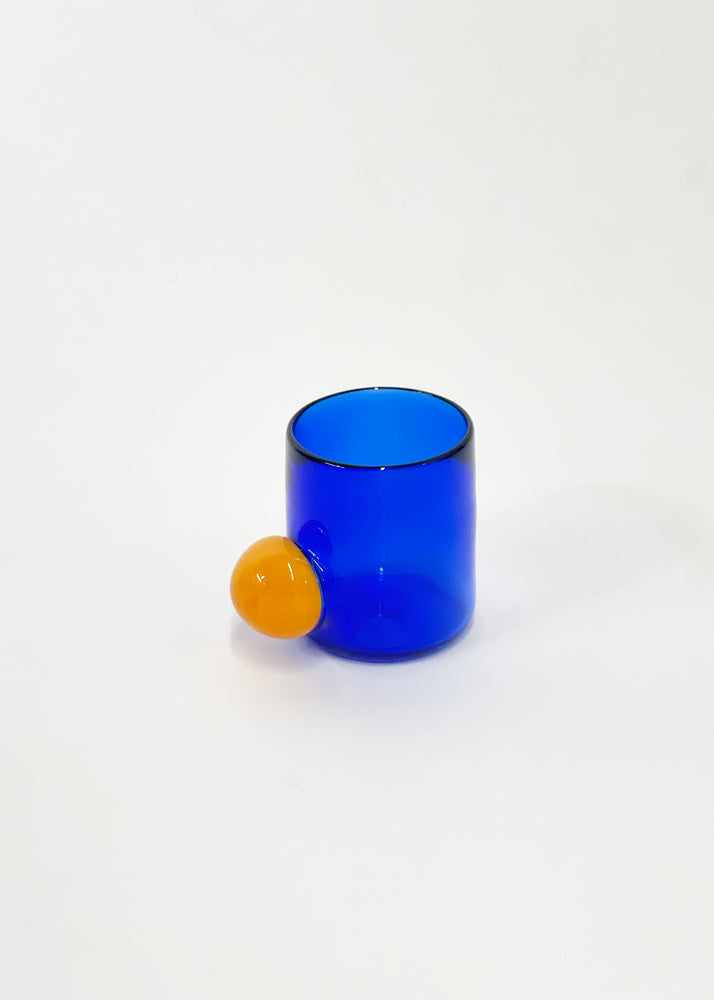 The bubble collection was developed through experimentation with the expandable and inflatable properties of glass. Each cup and pitcher has an external bubble chamber for the liquid to flow in and out of (or store your olives from your martinis). These bubble bits also act as a rest for your fingers as you take a sip.
Made for drinking but destined for display, each glass is a combination of two distinct tones blended together to create a gradient. Each glass is hand blown and individually tinted with colors inspired by our favorite beaches around the world.
Highball and Collins
There is technically a difference between a highball and a collins glass: "A highball is a tall, skinny glass. A collins is just a taller glass and usually a couple ounces larger than a highball, but only due to the additional height."
The collins glass is one of the most versatile and commonly used cocktail glasses. It's a tall, cylindrical glass tumbler with no taper; the glass is straight up and down along the sides, although some versions have a slight curved bulge in the middle of the glass as a decorative element. 
Both Highball and Collins glasses are good for gin-and-tonics, vodka-sodas, and whiskey and gingers but can be repurposed for tiki drinks made with crushed ice. They're also "super-acceptable for nonalcoholic drinks."
Inspired by Sunday dinners where the best kitchenware came out of the cabinets.
Fazeek's Set of 2 Wave Highballs are made for tall cocktails and iced mixed drinks. They add just as much elegance to your sparkling soda as they do to your Saturday night Tom Collins or Sunday morning Bloody Mary.
Viski's Deco Crystal Highball Glasses are inspired by the elegance of Art Deco architecture and the cocktail culture of the 1920s. These lead-free crystal highball glasses are perfect for a Mojito, Cuba Libre, or Bloody Mary.
Balancing form and function, the Sapphire Utility Glassware from  LSA International features a sleek design and beautiful craftsmanship. These mouth-blown glasses feature thick sapphire blue walls in a stepped design accented by a clear base. 
Martini
The most immediately recognizable cocktail glass, Martini glasses are entirely essential to any bar, and they're perfect for cocktails served straight up. A staple since the 1925 Paris Exhibition, when it was introduced as a modern alternative to the coupe glass, martini glasses were originally used for the consumption of champagne. The long stem and cone shape both play a role in controlling temperature, while the wide mouth enhances aroma with each sip.  
Inspired by the colourful totem poles of postmodern design, the solid base and proportions of these stemless cocktail glasses were designed with special consideration for longer drinks — spritzes, mixers, even sodas! — but still work beautifully with any classic cocktail. 
Raise a toast with Helle Mardahl's 'Bon Bon With a Twist' cocktail coupe - it'll make the occasion even sweeter. Crafted in Copenhagen using time-honored mouth-blowing techniques, it has a soft, curvaceous shape and sculptural stem. 
Presented in coloured glass, each piece in this set of six martini glasses is hand-blown by highly skilled glass artisans in Poland.
Rocks Glasses
Sometimes referred to as an Old-Fashioned Glass, rocks glasses are used to serve spirits over ice, as well as distilled spirits and sweet drinks best enjoyed in small quantities. Rocks glasses vary in size and shape and typical designs are made with decorative pressed glass, but the most modern examples resemble stemless wine glasses.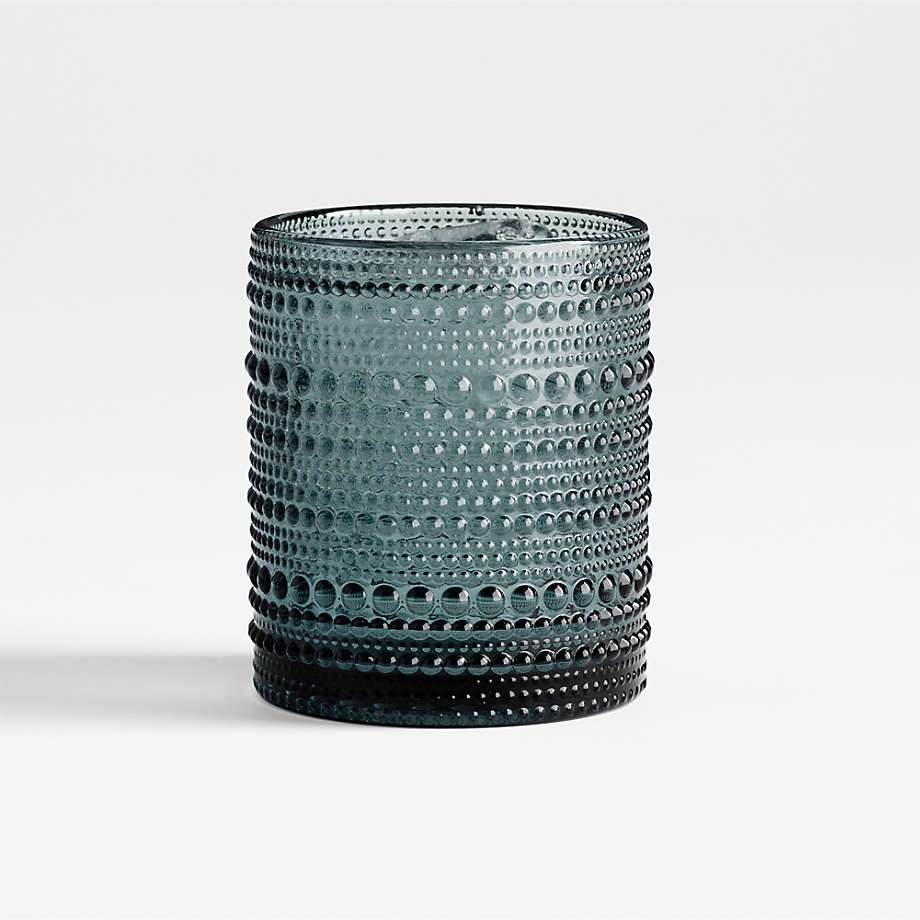 Inspired by Parisian flea market finds, the Alma double old-fashioned glass in deep blue brings lush color and fascinating texture to cocktail hour. Bands of petite beads add vintage charm, turning the simplest glass of water, juice or iced tea into a special sip. And with the look and feel of a handmade antique, the charming glass is worthy of your carefully crafted cocktails.  

A modern take on a classic, for the classics. Shatter-resistant crystal with clean lines and vintage-inspired etching to elevate any Negroni, Old Fashioned, or whiskey—whether you're sipping it neat or on the rocks.

The founder of Estelle Colored Glass has named the collection in honor of her grandmother, Estelle, who she describes as "a jewel of a person that instilled in me an appreciation of the pastime of treasure hunting for beautiful finds -- especially for the kitchen which was the heart of her home."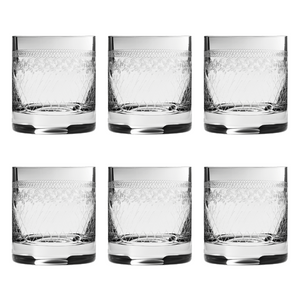 The 1910 Retro Old Fashioned glass is a classic vintage-inspired tumbler with a heavy base and a unique etched design. Perfect for lowball cocktails, Old Fashioned, Manhattan, and many other delicious classics.


Completedworks' tumblers are hand-blown from recycled-glass, so each one is entirely unique. This set of four has dimples to make them easy to hold onto and each one comes in a rich jewel tone.